Liverpool v Crystal Palace: The Big Match Preview
IT'S nip and fucking tuck time again.
We win. They win. But we have the edge. It's now very clear. Manchester City are very good but Liverpool may just be the more complete football team.
In full attacking cry, Pep Guardiola's side can look a force of nature, as can Jürgen Klopp's Liverpool. But turn this city team around — not an easy thing to do granted — and they can be made to look ragged. This no longer applies to Liverpool.
I was privileged to watch the 1978-79 Liverpool side that conceded just 16 goals in a season. It was in no sense a defensive team, far from it (it scored 86 goals), but it just so completely controlled games that the opposition simply couldn't lay a glove on.
The 2019 model Liverpool has only seen 10 goals breach its defence with nearly two thirds of the season past. It's point gaining at a faster rate than the '79 side. Whisper it, but we may be witnessing a very special team emerging.
Bob Paisley's side amassed 68 points, then a top-flight record. Adjusted to today's 38-game season, with three points awarded for a win, that translates to a haul equivalent to about 88 points in 2019. This year's Liverpool need just 31 points from 16 remaining games to match the achievement of Liverpool's greatest ever league season.
Klopp's team could reach the 1979 total merely by winning eight or nine of their remaining fixtures. In many ways, what's unfolding before us beggars belief. We could be watching the greatest incarnation of a Liverpool team of all time.
So what does the greatest version of all time look like? It may very well look like Mo Salah, like Sadio Mane, like Alisson Becker, like Virgil van Dijk, like newly tied-down Andy Robbo. For Dalglish, Souness, Hansen, read Firmino, Wijnaldum and Gomez. This is how we may come to view today's crop.
And yet, the truly incredible possibility remains that the very best of the best could still be bettered by the current incarnation of Manchester City. For a 90-point finish by Liverpool in May — awesome achievement as that might be — would mean that they had still gone on to drop a further 15 points this season.
Even with a four-point lead over City, as it stands, it would be unlikely dropping 15 more points would be few enough to enable Liverpool to emerge with a first league title since 1990.
I don't know how Jürgen sleeps at night. I'm up till all hours. Kloppo knows to become the king of kings he can only face the front, and in his and our path stand Crystal Palace. Right now, they are the greatest threat to our ambitions.
Our horrible ex Roy Hodgson will drive his south London bus and park it in front of our goal this Saturday. He has men who can threaten us on the counter — Zaha and Townsend most notably — but all the training ground sessions he will be working on this week will be about frustrating Liverpool.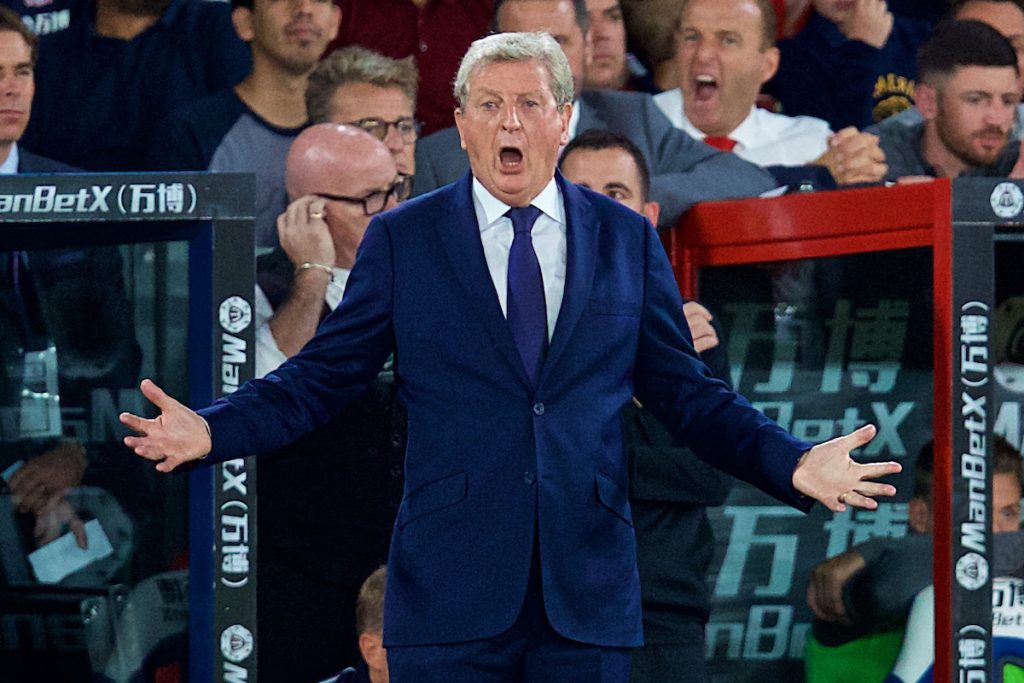 Palace are 14th but they may be less crap than that placing suggests. They have won two of their last two away — against Wolves and Man City. We'd be foolish to underestimate them.
Klopp will likely face up Hodgson's uber conservative 4-5-1 formation with his now preferred 4-2-3-1. Gini Wijnaldum and Trent Alexander-Arnold will join Joe Gomez in the treatment room and won't face Palace at the weekend. James Milner will surely take Trent's place, while Fabinho should return to his preferred midfield position in Wijnaldum's stead.
The biggest selection decision for the Liverpool manager will be whether or not to pick Shaqiri ahead of Naby Keita. I'd like to see Naby given the nod and the opportunity to play himself into form. Shaqiri is so potent as an impact substitute and could be best preserved as the not-so-secret late weapon.
AFTER DOING LIVERPOOL A RECENT FAVOUR, THE EAGLES TRAVEL TO ANFIELD IN AN EFFORT TO TRY AND DO THE SAME FOR MANCHESTER CITY.
The result at the Etihad came from nowhere and while Palace proved on that one afternoon what they are capable of, they have not lived up to that performance since.
Form has been quite indifferent since Andros Townsend's screamer from distance saw to the reining champions on their own patch, but that result will be in the back of the minds of both sets of players this weekend.
Anfield has been a mixed hunting ground for Palace in recent years. Who can forget seeing off Steven Gerrard with a home defeat in what was one of two consecutive league wins at the famous old ground for the Eagles.
A win away at Wolves apart, Palace have struggled, particularly at home. The set up is more suited to playing away from home and with injuries in the hosts ranks, there could be a chance for the Eagles to take another big scalp this season.
It is no secret the problems Palace have endured at home so far this season so an away trip will be a welcome one particularly after the disappointing loss against Watford last time out.
With a number of fringe players already departed South London, fans are waiting eagerly for new additions. The first may come in the form of a goalkeeper with Sao Paolo stopper Lucas Perri expected to sign on loan shortly following injury doubts over both Vicente Guaita and Wayne Hennessey.
TEAM NEWS (COURTESY OF PHYSIO ROOM)
CRYSTAL PALACE – Vicente Guaita (calf) and Pape Souare (shoulder) are both out while Wayne Hennessey (thigh) is a major doubt.
LIVERPOOL – Trent Alexander-Arnold (knee), Joe Gomez (ankle) and Alex Oxlade-Chamberlain (knee) are not available. Dejan Lovren (hamstring) and Adam Lallana (muscle) are major doubts. Georginio Wijnaldum (knee) could face a late fitness test.
ACTION REPLAY
The last time the two sides met was at Selhurst Park back in August where the visitors took all three points. The hosts performed admirably but succumbed to a James Milner penalty right before the break with Sadio Mane sealing it in injury time. Aaron Wan-Bissaka saw red for bringing down the instrumental Mo Salah.
Who Scored man of the match – Sadio Mane (8.5)
FORM GUIDE
Last FIVE meetings between the two sides;
20/08/2018 Crystal Palace 0-2 Liverpool
31/03/2018 Crystal Palace 1-2 Liverpool
19/08/2017 Liverpool 1-0 Crystal Palace
19/07/2017 Liverpool 2-0 Crystal Palace
23/04/2017 Liverpool 1-2 Crystal Palace
Last FIVE results for Palace;
12/01/2019 Crystal Palace 1-2 Watford
05/01/2019 Crystal Palace 1-0 Grimsby Town
02/01/2019 Wolverhampton Wanderers 0-2 Crystal Palace
30/12/2018 Crystal Palace 0-1 Chelsea
26/12/2018 Crystal Palace 0-0 Cardiff City
Last FIVE results for Liverpool;
12/01/2019 Brighton & Hove Albion 0-1 Liverpool
07/01/2019 Wolverhampton Wanderers 2-1 Liverpool
03/01/2019 Manchester City 2-1 Liverpool
29/12/2018 Liverpool 5-1 Arsenal
26/12/2018 Liverpool 4-0 Newcastle United
THE RECORD AGAINST LIVERPOOL
Played – 52
Won – 14
Drawn – 11
Lost – 27
FORM PLAYERS (COURTESY OF WHO SCORED)
Top two rated players from each team so far this season;
Mo Salah 7.70
Virgil van Dijk 7.41
Aaron Wan-Bissaka 7.27
Luke Milivojevic 7.11